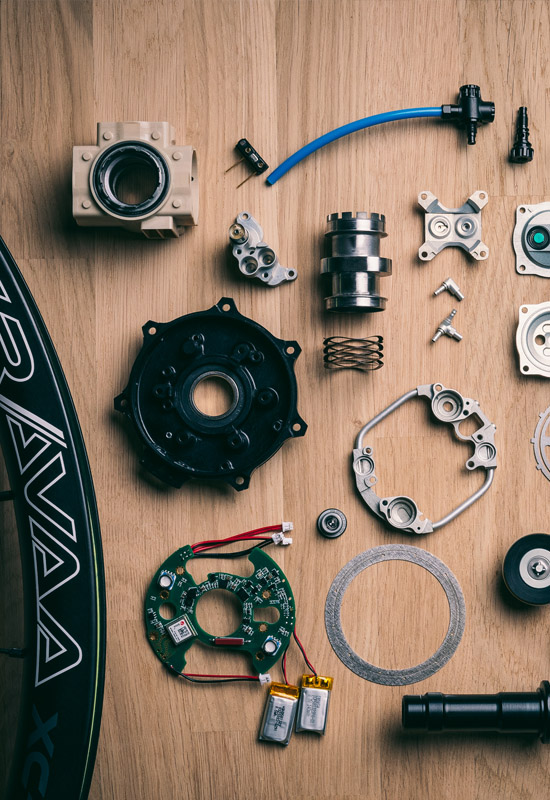 The miniature pump
The pump forms the heart of our system. Our pump is extremely small, has a very high performance, and fits inside a coffee mug! It composes of three cylinders, which compress filtered, outside air from ambient pressure up to a high pressure. The main body of the pump is mounted to the hub and, logically, rotates with the wheel. Upon a command to inflate the tyre, the clutch engages and brings the camshaft inside the pump to a halt. Hereafter, the wheel rotation causes the pistons inside the cylinders to move up and down, and consequently, build up pressure. Miniature check valves then force pressurized air to flow to the tyre directly. Hence, you can adapt your tyre pressure endlessly while riding.
The inflation speed mainly depends on three main factors:
Moving speed Pistons inside the pump move up and down faster at higher speeds, which means that you pump faster.
Tyre type Especially the volume inside your tyre affects the inflation speed. The pump capacity for all of our wheelsets is similar, but due their volume, gravel bike tyres are typically inflated much faster (factor 2-3) than mountain bike tyres. The pump is designed to work smoothly for both mountain bike and gravel bike tyres.
Pressure level At higher tyre pressures, it takes a little bit more energy to compress air any further due to thermodynamic losses (like for instance: heat generation) compared to lower pressure levels, which slightly reduces the speed of inflation. However, due to its design the efficiency remains high over the complete range of tyre pressures.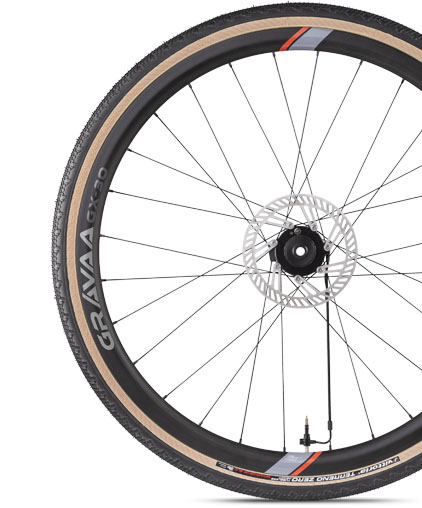 Carbon rims
For our lightweight wheels we make use of light carbon fiber reinforced rims. We made the design of the rims ourselves, in close collaboration with our rim manufacturers: an optimal design with a good balance between weight, stiffness/strength and riding experience. Our GX-30 and XC-28 wheels use different rims, which fit their application best:
GRAVAA GX-30 wheels compose of asymmetric 30 mm high rims with an inner width of 25 mm. The rims have a spoke offset of 2.5 mm.
GRAVAA XC-28 wheels compose of asymmetric 28 mm high rims. These rims are available with an inner width of 25 mm or 30 mm. The spoke offset is 2.5 mm.
All our carbon rims are made with advanced carbon fiber technology. We guarantee the highest precision, lightweight, and strong rims. All our rims undergo extensive testing, supported by recognized external wheel testing institutes, to provide us with rims of highest quality.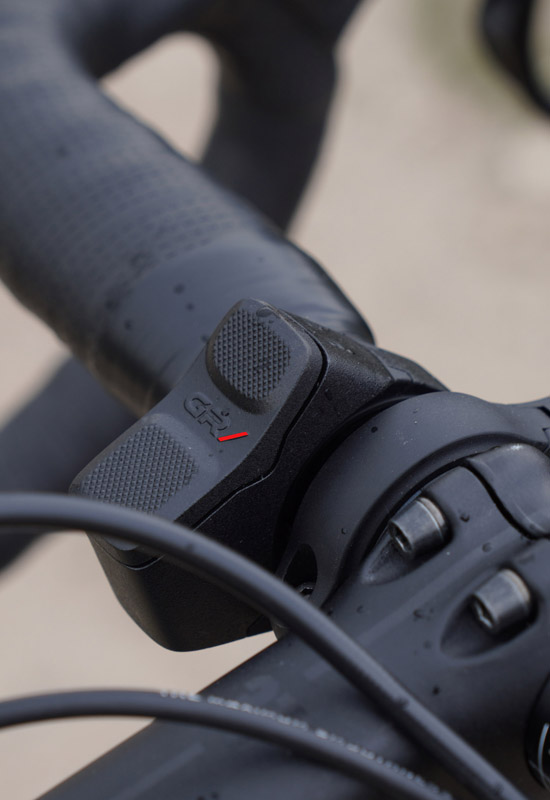 Our HMI: manage, display and set your system
Manage You can manage the tyre pressure with a flick of the thumb while riding. This can be done via a wireless control unit that is mounted on the handlebars. Because the system must be easily controllable in dynamic situations we have put a lot of effort in making an ergonomic control unit, intuitively simple with haptic feedback. By pressing up/down, the system reacts on your commands directly. Blinking LEDs will give basic user feedback. The wireless control unit is standard delivered with our wheels.
Display Being compatible with standard bikes and equipment is important. Therefore, we provide the option to display the tyre pressure of your front and rear wheel onstandard bike computers, using standard data fields. A list of compatible devices will be released later*. Next to this, tyre pressures can be displayed via a GRAVAA app on your smartphone. This mobile app will be made available for download in the Google Play Store and Apple App Store.
Settings Use the GRAVAA app on your smartphone to set up your system before first use, change detailed system settings (for example: enter custom pressure setpoints), connect devices, install updates, et cetera.
*currently we use a Garmin Edge 830 bike computer – but compatibility will be extended. The bike computer is not supplied by GRAVAA.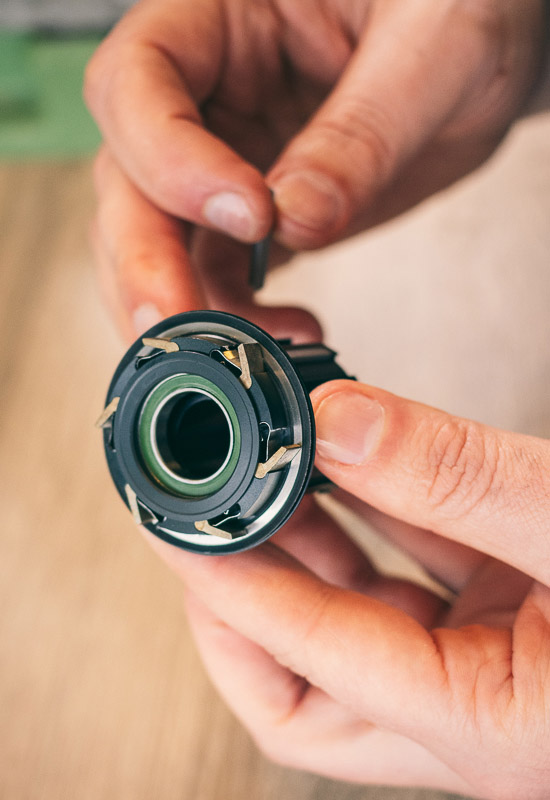 Our freehubs
Our wheelsets are specifically designed to handle every terrain. Robustness is key for a carefree rider experience!
Our wheels are loaded with features every rider will appreciate, such as our own designed ratchet system. It features a unique 6-pawls concept with a 45-teeth specially hardened ratchet ring, resulting in only a 4° engagement to let you accelerate as a rocket.
To be compatible with a wide range of group sets, you can select the freehub body of choice. We offer compatibility with the following cassettes:
Shimano/SRAM 9-10-11sp,
Shimano MicroSpline 12sp,
SRAM XD/XDR,
Campagnolo 10-11-12sp,
Campagnolo Ekar 13sp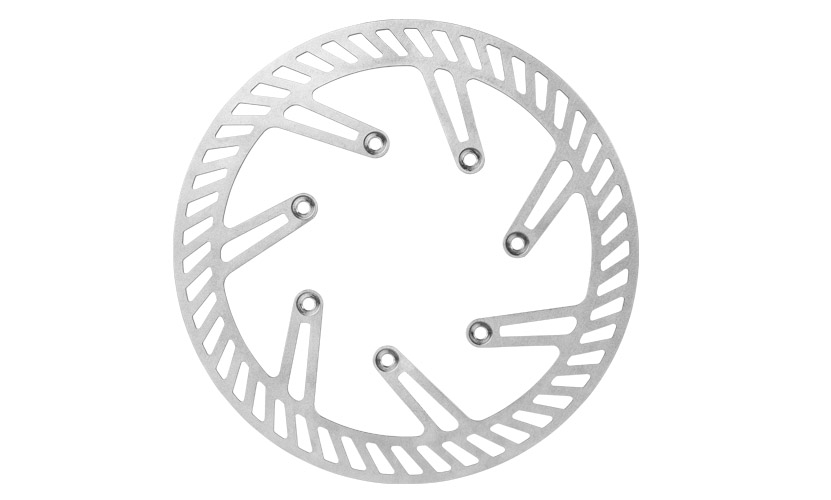 Our lightweight disc brake rotors
Our wheelsets are designed for disc brake only. To reduce weight, we have chosen to integrate the disc brake rotors in our hubs. Hereby, we are able to create one of the most lightweight disc brake rotors on the market. The rotors are made of specially hardened stainless steel and are available in three different sizes:
diameter = 140 mm (81 grams)
diameter = 160 mm (98 grams)
diameter = 180 mm (115 grams)
The disc brake rotor of choice is standard part of your GRAVAA wheelset.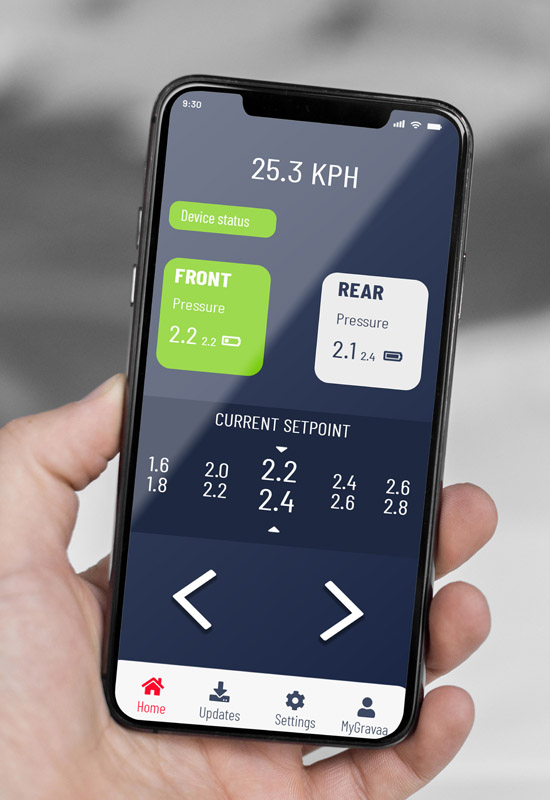 App on smartphone
As mentioned above, a GRAVAA app on your smartphone will be made available for download in the Google Play Store and Apple App Store. Using this app, you can:
Set up and manage all wireless connections to your wheels,
Customize system settings,
Switch between fixed increment mode, or pressure profiles (preset mode),
Choose an offset pressure for rear tyre (compare to front tyre),
Gather detailed system information,
And many more…
By using the GRAVAA app, you will get most out of our system!